Space Gardening, Dragon Packing and Spacewalk Work Aboard Lab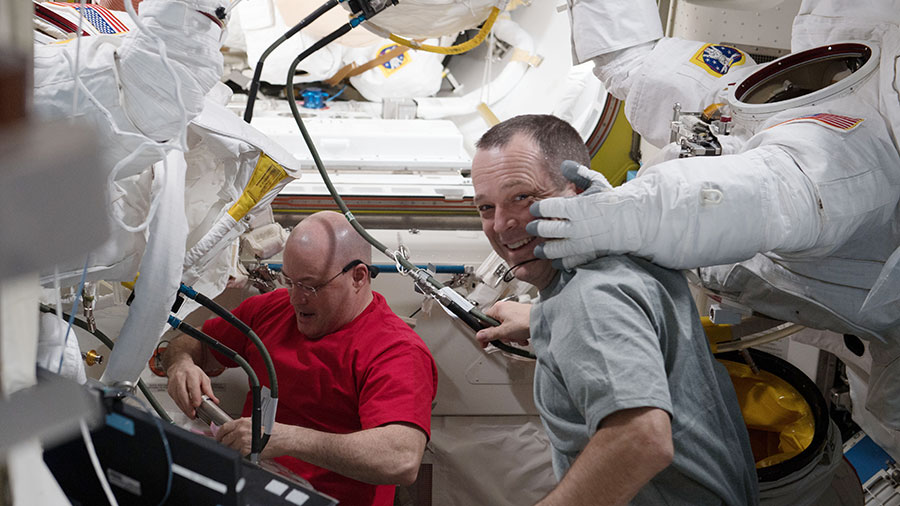 The Expedition 55 crew is experimenting with space gardening today while packing research samples and cargo for return to Earth. The space residents are also breaking down gear brought in from last month's spacewalk and getting ready for the next spacewalk.
Botany research aboard the International Space Station helps scientists and astronauts learn how to grow food off Earth to sustain future missions. Today's space gardening work performed by Flight Engineer Drew Feustel will test the automated nourishment of lettuce and mizuna greens grown in the Veggie facility. The plants will be harvested and samples sent back to Earth for analysis.
Botanical samples are just one example of the multiple types of research and cargo that is sent to Earth packed inside the SpaceX Dragon cargo craft. Radiation monitors that recorded exposure levels in the station's crew quarters were collected by Japanese astronaut Norishige Kanai today for stowage inside Dragon. Engineers on the ground will examine the radiation data and determine the exposure risk to the crew and develop countermeasures.
NASA astronauts Scott Tingle and Ricky Arnold disassembled an external television camera group (ETVCG) brought in from last month's spacewalk. Tingle then replaced a failed light bulb in a light to be used on another ETVCG which will be installed on the next spacewalk scheduled for mid-May. Parts from the old ETVCG will be shipped back to Earth in Dragon for refurbishment.
Dragon is due for two more work days of packing before its return to Earth next week. Ground controllers will remotely detach Dragon from the Harmony module before releasing it from the grips of Canadarm2 into space at 10:22 a.m. EDT Wednesday, May 2. Tingle will monitor the robotics activities as NASA TV broadcasts the departure activities live starting at 10 a.m. Splashdown in the Pacific Ocean is planned for 4:02 p.m. and will not be seen on NASA TV.
Get The Details…
Mark Garcia
ISS
Powered by WPeMatico